Wed, May 29, 2013 | Author: Dan Lukens | Categories: Design, Email Marketing, HTML
Designing email for a mobile market is among the most pressing issues in email marketing today.

This is an obvious truth for everyone in the email marketing business, but the question you are probably asking yourself is, "How do I deal with it?"

To have success with email marketing, your message must be attractive and functional on many platforms. The number of users reading email on their mobile devices is already at a substantial 40% (at least), a percentage that we believe will continue to increase.

Some email marketing services have adopted the idea that responsive design is the best way to prepare email for mobile devices. When an email is designed to be responsive, it will display differently depending on the display size of the device. In order to know the size of the device, a certain type of code called a media query must be used. Media queries are functional on most mobile platforms.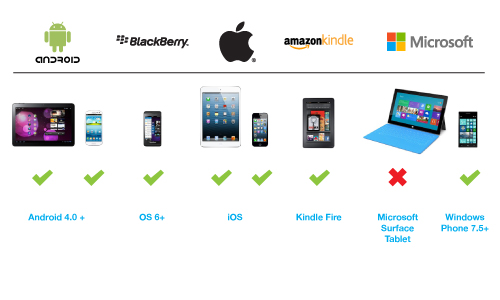 Media queries are successful on most devices, but only if your list members are using a relatively up-to-date version of their chosen platform. Responsive design and media queries can make even the most complicated templates look great on mobile. We use responsive design in our very own website, but the unfortunate truth is that design for email is much different than modern website design.

Admail.net supports responsive design through our upload HTML feature. We believe that if you're going to tackle this emerging technology, you should have someone on staff with the ability to write the code themselves. This is important with responsive design because complications can and will arise. Problems can occur when displaying responsive designs on non-mobile platforms and in third party mobile email applications. Media queries are often not supported in these cases and responsive design may appear in a way you may not expect.

That is why we have chosen not to take the leap to responsive design and why we are holding off on making our templates fully responsive. Our templates already display beautifully on mobile devices without using responsive design or media query. Customers can rest assured that we have a finger on the pulse of mobile email design and we're keeping a close eye on all of the changes. We're more than happy to support our customers who do want to dabble in responsive design, but we're sticking with what works consistently for now. We know that the mobile platform is growing and here to stay. It's a big part of our development plans moving forward.

In lieu of responsive design, there are traditional ways of making your email mobile friendly. A few simple methods are listed below:
Tue, Dec 11, 2012 | Author: Dan Lukens | Categories: Admail Services, Best Practices, Design, HTML
If you prefer writing your own HTML code rather than using our templates, Admail.net completely supports those efforts. Writing HTML can be difficult however and this guide assumes that you are already moderately fluent in the language.

One of the big problems our clients run into when writing HTML for email is that they aren't intimately familiar with all the of the eccentricities of the email clients they are going to be dealing with. There are so many in use today, it's hard to know which rules to follow. This post focuses on avoiding problems in Outlook, but should be a good general guide for writing HTML for email.

Outlook is definitely not the favorite email client of marketers and it has many issues, but it remains popular and thus needs to addressed. This post will provide some tips for doing HTML right. Follow these tips and your email will appear correctly in almost all email clients.
Wed, Nov 17, 2010 | Author: Dan Lukens | Categories: Design, HTML
With the use of mobile devices on the rise, the importance of optimizing your email marketing campaigns for mobile devices has never been higher. Admail.net knows how to deal with mobile email and how to help you make your email a please to read on a mobile device.
Wed, Mar 31, 2010 | Author: Dan Lukens | Categories: Admail Services, Design, Email Marketing, HTML, Sending Email, Tips
Ever wonder if you should use an HTML email template or a plain text email for your simple email campaigns? Admail discusses the pros and cons of the two formats on the Admail blog.