Keep Your Email List Clean for Better ROI
If you're having trouble with email engagement, then email list cleaning may be the trick to help. Perhaps you noticed your open rate is low or maybe your emails aren't making it to the customers' inboxes at all! Given the time and effort you put into each email campaign, it can be frustrating to see little engagement. Keep reading to learn about how cleaning your list can improve engagement.
Cleaning Your List
Email list cleaning, also known as email scrubbing, is removing contacts who are unengaged and irrelevant. Though it may seem counterintuitive to remove list members, by removing unengaged subscribers you narrow down the focus of your marketing and create a more meaningful relationship with your engaged subscribers. By cleaning your list, you can focus on the data for active and engaged subscribers allowing you to better deliver on content they appreciate which in turn means more conversions for your company.
Also, if you use an email service there may be a limited number of email subscribers you can have. So it is all the more vital to clean out your email list and get rid of any unengaged and invalid subscribers. If you have a limited number of subscribers with your email service, make sure those subscribers are engaged so that your marketing efforts can be a success.
Another important reason to clean your list is to reduce the number of bounced emails. Purging your email lists of addresses that have previously bounced decreases your bounce rate and improves your sender reputation. This is a vital component to ensuring your emails arrive in inboxes as opposed to spam. Sender reputation refers to how email inbox providers view your sending address. The better your reputation, the less likely your emails will go to spam.
Some email services will clean your list of addresses that have bounced automatically so check with your service to confirm if they do this. Admail.net automatically removes list members who have bounced from your active list and we'll discuss this more below.
We encourage you to clean your email list every few months, especially if you notice a decrease in your open and click rate over time.
See the Results of List Cleaning
While all this information is great, sometimes seeing a concept in action is better than reading about it. For that reason, we've included an example from one of our customers who learned how much list cleaning can help their engagement.
Peachtree Woodworking Supply Inc., an Admail.net client since 2005, contacted us to help clear out old inactive emails from their List Builder member database to see a more accurate representation of customer engagement in their marketing campaigns. As you can see below, they've shared their statistics from August through September of 2020 and compared them to August through September of 2021.
The numbers are shocking!
Their open rate increased from 19% to 27%.
Their click-through rate shot up from 2.87% to 4.05%.
Their bounce rate decreased from 7% to less than 2%.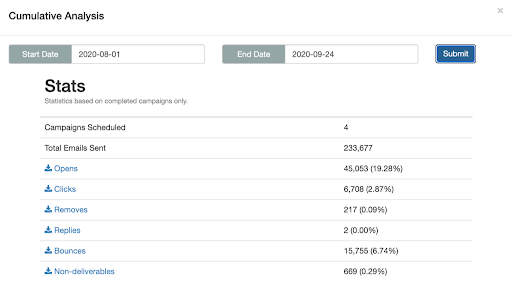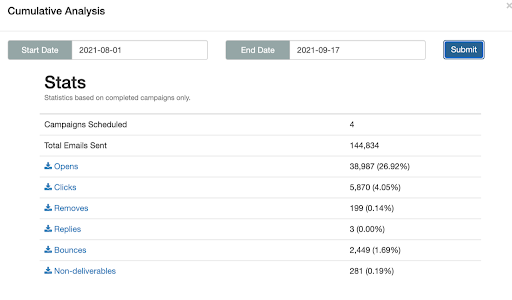 These statistics should give you a good idea of how important it is to clean your list fairly regularly.
Clean Your List with Admail.net's List Builder
Our List Builder makes it easy for you to do a complete scrub of your email list. First of all, we track bounced emails. If the bounce is a hard bounce, meaning the email can't be delivered for permanent reasons such as an invalid email address, we remove that email from your active list.
On the other hand, a soft bounce refers to undeliverable emails for temporary reasons including a list member having a full inbox. We will monitor addresses that have soft bounced and if emails have bounced four times, we mark them as undeliverable and take the addresses out of your active list. By keeping your list clean of invalid email addresses and email addresses that have previously bounced, it'll help you maintain a healthy sender reputation.
List Builder manages your database and keeps track of customers' key information. With List Builder, you can create list segments based on a number of variables including geographic location, demographic profiles, and more. The List Builder Smart Group can identify Open and Click activity making list cleaning much easier. With all the data at hand, List Builder will make it easy to clean up your subscriber list so that you can interact with your engaged subscribers and plan the right content to keep them engaged.
Or you can do what Peachtree Woodworking Supply Inc. did! Give us a call at (800) 479-6233 or email us at sales@admail.net for a quote on a thorough analysis and cleaning of your list.
So make sure to keep your list clean of inactive and invalid subscribers so your marketing efforts reach the right audience!
---